Leading Best Quality Material and Affordable Price Manufacturer, Supplier, Distributors and Exporter of Asphalt Batch Mix Plant, Asphalt Drum Mix Plant, Mobile Concrete Mixing Plant, Concrete Mixing Plant in Ahmedabad, Gujarat, India
Established in the year 2013 at Ahmedabad, Gujarat, India.  We "AASPA Equipment Private Limited " are a renowned manufacturer and exporter of a premium quality range of Asphalt batch Mix Plant, Asphalt paver, Wet mix plant,  Reversible drum type mixer, Bitumen Emulsion sprayer, Bitumen Sprayer, control panel, Food waste composing machine, Vegetable Waste composting machine, waste shredding machine, slip form paver etc. also available We provide expertise in road construction equipment by delivering globally recognized technology that gives our customers a peace of mind.  Right from the beginning the company is manufacture world class road construction equipment and thus the company has earned a very high reputation in the market.  The offered machine is manufactured with high quality raw materials technique and tough rigorous quality control check under the supervision of well qualified and experienced personnel meeting the international standards to produce high quality control products. Highly acknowledged by our client due to its fine features like high performance, low maintenance, long serviceability, cost effective.  Moreover, we offer all products at a very nominal rate.
Offering premium and high performing range to our client due to our technically advanced infrastructure our unit is facilitated with hi-tech machines,  which are managed by our highly experience professional who acquires in depth knowledge about the industry.  All our road construction equipment manufactured as per M.O.R.T.H (Ministry of road transport and Highway) specification in India. We also make sure that the range offered to the client is as per the exact requirement.  We customize our range of equipment and plant as per their exact requirement.  Having a wide range of equipment and plant as per the specification incorporate those to improve our product range.  Our high performing range and ethical business dealing have enabled us to garner a vast clientele across the world.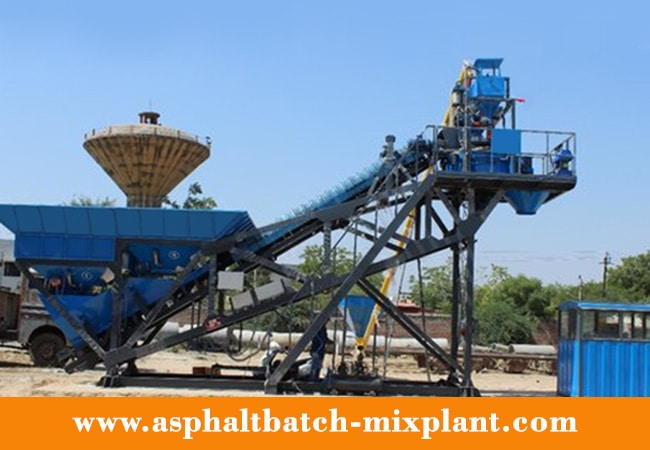 With high level of engineering and consummate expertise involved we are exporting our product not only in India but across the countries. Our satisfied customers are spread across countries like Nigeria, Malawi, Kenya, Mozamique, Sierra Leone, Afghanistan, Oman, Yemen, United Arab Emirates, Bhutan, Sri Lanka, Guyana, Ecudar, and many more.  Pursuit of excellence that the company has achieved many repeat orders this becoming customer first choice of infrastructure development.
An Asphalt plant is equipment that is designed to produce hot mix asphalt. There are various materials which are mixed and uses like sand, bitumen, and filler material in specific proportion to produce asphalt concrete.  Aggregate can be of single sized material or it can be a combination of various materials of different sizes with a combination of fine and coarse particles with or without the addition of a filler unit.
Advantages of Asphalt Batch Mix Plant
There are various advantages of Asphalt batch mix plant like
Accuracy
Everything might be measured right as much as the smallest degree. Exactly how much aggregate will be required to how hot the high temperature would need to. Thus this ensures even mixing of all of the necessary components. Easier to regulate the amount of the mixed asphalt is let by helping cover their even more ease.
Time saving
Significantly less time and energy to have this in your corner rather than about five blokes having and huffing over some dug out heated pit. There is various type of asphalt batch mix plant which can be convenient to move which can save time and money both.
Support
This really is only an extra advantage if an individual is to find a new setup straight from the maker. This is to ensure that if something is to get wrong with all the plant on the job and have capacity to save through to repairs provided that the company can be over compelled to perform them for you personally at close to no cost.
Cost
Owning an asphalt batch mix plant saved on a lot of money that would have otherwise been spent on manpower and may be having had one leased to you personally. It does not require lots of hands to work and likewise, to spending a shorter period having the mixing done you might are already in a position to save up enough.
Aaspa Equipment Private Limited won't deprive you of your expectation and will consistently invest the best efforts to meet your needs. Testing facilities at Aaspa are well equipped and up to date.  The fulfillment of the client demand comes prior at all commercial. Have a development team constantly working with us in order to ensure that the equipment is modern are made of the latest advanced technology. Providing the best quality product at market leading prices, we have been able to gain maximum satisfaction from our renowned patrons.
In order to maintain the quality of our road construction machine and equipment we have framed a strict ISO 9001:2015 quality management system that is consistently practiced at all the levels of the production cycle. Quality is of utmost importance to us and we never compromise on this aspect. Always focus on quality we conduct the various stringent test so these equipment and machine work without any flaw. The quality inspectors are well skilled that is possible only with their complete sincerity and dedication. Every finished machine and equipment passes through the vigilant eyes of our quality analysts so that we can ensure a complete satisfaction level to our esteemed client.  Our quality analyst's conducts these test based on following parameters.