Buy International Quality Material and Affordable Price Manufacturer, Supplier and Exporter of Asphalt Batch Mix Plant in Andhra-Pradesh, Uttar-Pradesh, Madhya-Pradesh, Tamiladu, Kerala, Maharashtra, Coimbatore
Aaspa Equipment PVT. LTD. is one of the renowned manufacturers of a broad spectrum of Asphalt Batch Mix plant having. The offered asphalt batch mix plant manufactured by utilizing top grade materials and cutting edge technology at our highly advanced production unit Our offered Asphalt batch mix plant is specially designed to suit normal aggregate condition, input dust levels, average moisture content, environmental pollution, fuel availability, hot mix production variable for every road project around the country.  These products dry mixture out various ingredients. The offered product is available in various model, size, and capacity according to the needs of our valuable client. Our Quality expert carries out a strict quality check to ensure the functioning and performance of the product in compliance of set industry standard and rules. Acknowledge by our client due to its fine features like durable, reliable, less fuel consumption, low maintenance cost, user friendly control etc. In addition to this, the offered range is marked at the most reasonable rate.
Salient Features of Asphalt Batch Mix Plant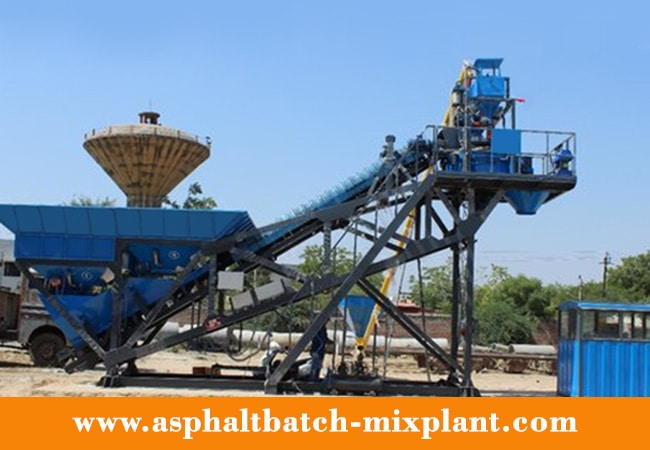 Necessary of the Asphalt Batch Mix Plant
⇒ Dryer Drum: –Proven flight design ensures a perfect distribution of material to be dried. The positive drive is to be provided by means of a ring,gear, coupled to a pinion driven by an inverter controlled geared motor. It designed for longer life.
⇒ Burner: –Universal Burners work with either diesel or heavy oil. A special heated adjusted cam is provided to regulate the flame length.  A gate with a control screw enables the flame to be enlarged or reduced.
⇒ Cold Feed Bins: –The plant is provided with abrasion resistance, cold feed bins. Bin has a self-relieving bottom opening which eliminates bridging of the feeders. Bin is provided with variable speed inverter drive through the geared motor.
⇒ Bitumen tank: –Tank is insulated with rock wool available in horizontal type and heated by thermal oil with automatic temperature adjustment. The valve is suitable and controls the charge transfer and discharge of bitumen among the tank is provided. 
Technical Specifications

Model
Capacity
BM 80
80 tph
BM 120
120 tph
BM 160
160 tph
BM 180
180 tph
BM 200
200 tph
Key-Tags :- Asphalt Batch Mix Plant, Asphalt Batch Mix Plant Manufacturer, Asphalt Batch Mix Plant Supplier, Asphalt Batch Mix Plant Exporter, Asphalt Batch Mix Plant Manufacturer in Ahmedabad, Asphalt Batch Mix Plant Supplier in Gujarat, Asphalt Batch Mix Plant Exporter in India, Asphalt Batch Mix Plant Price, Asphalt Batch Mix Plant Process, Mobile Asphalt Batch Mix Plant, Asphalt Batch Mix Plant Manufacturers, Asphalt Batch Mix Plant for Sale, Asphalt Batch Mix Plant Latest Price in India, Asphalt Batching Plant PDF